The 147C is BACK! The 14' rigid drill is in demand, with all the features that has made the 107C so popular.
Now planting in 14' increments and weighing in over 5,600 lbs., this is a superb drill for planting in heavy residue and hard to-penetrate soil.
The 147C Grain Drill is designed to seed No-Till, Minimum Till, or conventional tilled fields. The two-compartment hopper offers the flexibility of seeding with dry fertilizer, seeding alone, or planting two different seeds.
If you need to plant in heavy trash conditions and have substantial acres to seed, the 147C is the drill for you!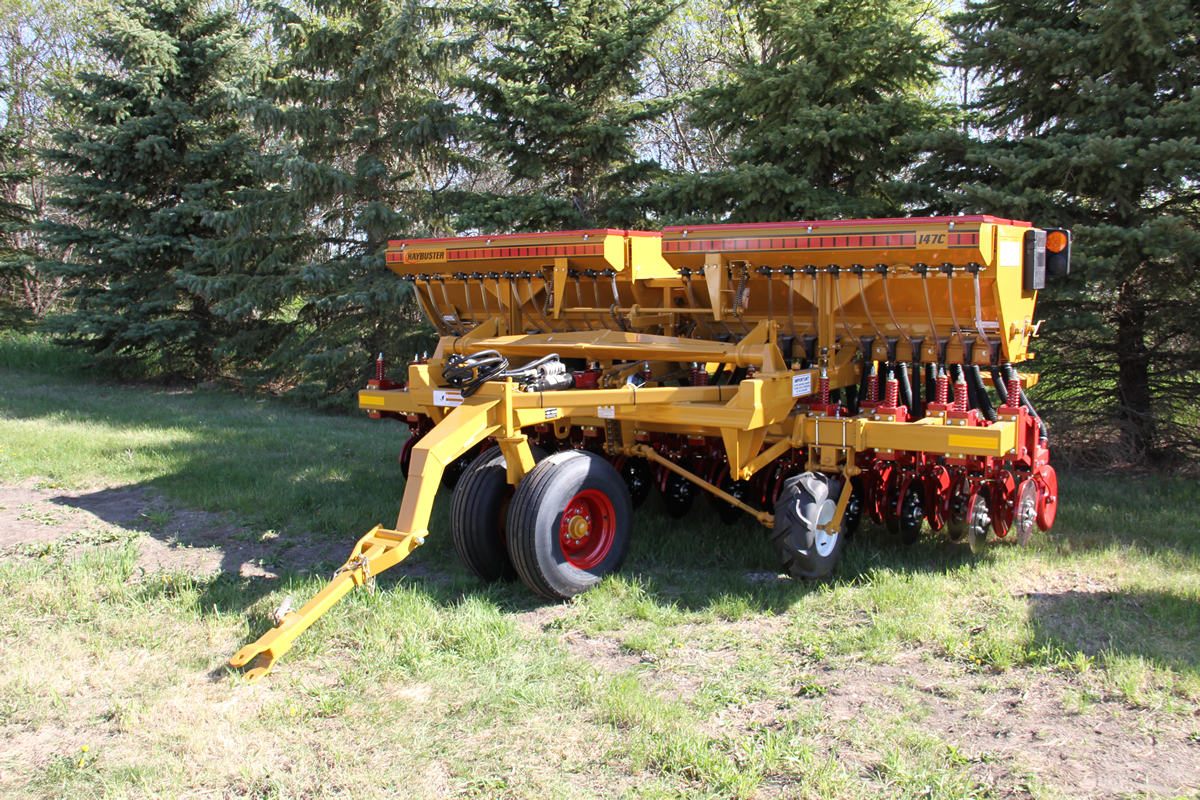 Features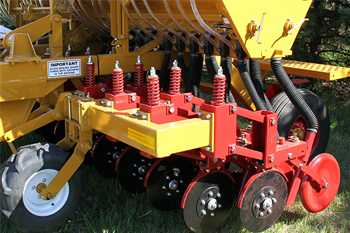 Haybuster Row Opener
Built for accuracy and versatility.
Accurate depth control is maintained by the packer wheels and the parallel linkage.
Depth control adjustment.
Pressure springs provide from 125-300 lbs. (61.24-136.08 kg) of down pressure to adapt to carrying soil conditions.
Optional native grass attachment include an agitator, a large convoluted hose and special seed boot.
Optional drop tube assembly with convoluted hoses.
Optional coulter depth bands help control disc opener depth in soft soil conditions.
The ground drive wheel is now wider assuring accurate seeding in all conditions.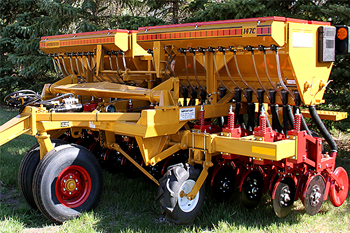 Versatility for Use in a Variety of Seed Bed Conditions
Haybuster's grain and grass drills are truly all-purpose drills. They will seed a wide variety of seeds, from warm and cool season grasses and legumes to small grains and soybeans. Up to three different products can be metered simultaneously at different rates (when the optional legume box is attached). Choose your combination: three seeds, or two seeds and dry fertilizer. These drills work well in all conditions, including conventional, minimal till, no till, and pasture renovation and reclamation projects.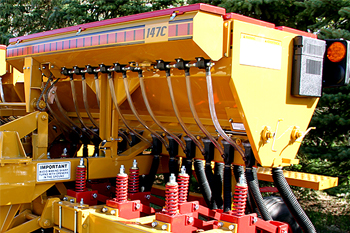 Two Seed Boxes
The 147C has two seed boxes with individual metering. The third box (front) is the optional legume box. The three seed boxes provide the flexibility to plant up to three different seeds, or two different seeds and dry fertilizer can be applied at three different rates.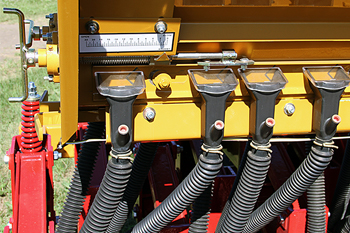 Infinite Rate Adjustments
Rate adjustments are infinite and simple on both the seed boxes and the legume box. Has new plastic seed cups.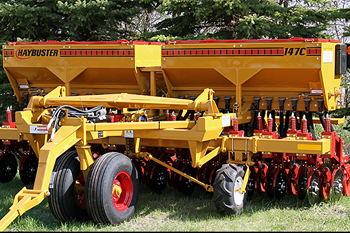 14' Seeding Width
The 14' drill is our widest single piece drill. This unit allows you to maximize your planting time without sacrificing seed placement accuracy.
Standard Features
Lead Coulter System: Lead coulter blade is offset 1 ½" in front of dual disc, allowing for cutting of trash and penetrating the soil.
7" Row Spacing: All Haybuster drills plant with 7" spacing and each linkage is offset 9 ½" for planting in heavy residue.
Infinite Seed Rate Adjustment: Easy to set, each box has infinite seed adjustment for accurate seeding rates, no matter what seed you're planting.
Down Pressure System: Each linkage has simple downpressure adjustments from 135 lbs. for conventional seeding up to 300 lbs. for no-till application.
Depth Control Adjustment: Simple, solid depth control adjustment on each linkage.
Mechanical Drive System: Wide, aggressive lug-type tractor tire drive wheel, for positive ground contact, to assure accurate planting.
Cast Iron Linkages: Built of heavy-duty cast steel, the Haybuster drill linkage is even more durable than ever. The cast steel makes the overall drill even heavier, which is always a positive when reseeding pastures and all no-till applications.
Three Seed Boxes: The Haybuster drills come standard with two seed boxes with individual metering. The third box (front) is the optional legume box. With the legume box installed, Haybuster drills are capable of planting three different seeds at three different rates.
Optional Features
Legume Box: Haybuster drills can be equipped with a third seed box designed for accurately feeding and metering small seeds and legumes. Also available with longer hoses and seed boots for shallow seed placement.
Native Grass Attachment: Haybuster drills can be equipped with dual seed agitators, large seed hoses and seed boots for accurately planting light, fluffy bearded seeds such as native grasses.
Single Bottom Agitators: Prevent bridging of seeds near feed wheels to maintain flow of seeds. It is standard equipment with the Native Grass Kit or can be ordered separately for the rear box.
Depth Band: Bolted on to the coulter to limit the maximum seeding depth.
Brackets to mount two barrels for extra weight.

Specifications

WEIGHT
Total
5,650 lbs (2,562.8 kg)
TRANSPORT & WORKING DIMENSIONS
Overall Width
13' 9" (4.19 m)
Height
6' 2" (1.88 m)
Road Clearance
7 in (17.78 cm)
CHASSIS FEATURES
Front tire type
Dual Implement
Front tire size
9.5 L x 14" (35.56 cm)
Rear tire type
Implement
Rear tire size
7.60 L x 15" (38.1 cm)
Hydraulic Lift Cylinder
Standard equipment
SEED & METERING
Molded Seed Cups with Wind Gards and
 
Tripple Width Seed Wheels in Rear Seed Box
 
Seed Box
18 Bushel (634 Liter)
Feed System
Infinitely Adjustable Meter
Fertilizer Box
1,540 lbs (499 kg) 13.5 bu (475.7 liter)
Walk Board Size
10" x 10' 6" (24.5 cm x 3.2 m)
Walk Board Type
Steel Safety Grating
Seed/Fertilizer Hose Type
Rubber Convoluted
Seed/Fertilizer Hose Size
1-1/4 in. (3.18 cm) ID
CAST SEED OPENERS
Seeding Row Spacing
7 in. (17.78 cm)
Seeding Width
14' (4.3 m)
Number of Seed Openers
24
Opener Type
Coulter-Disc Offset Opener
Coulter Lead Distance
1-1/2 in. (3.81 cm)
Opener Spring Pressure Range
135 lbs. to 300 lbs. (61.24 kg to 136.08 kg)
Opener Travel Range
10 in. (25.4 cm)
Disc Soil Penetration Range
Up to 3 in. (7.62 cm)
Coulter Size
5/32" x 14" (4 mm x 35.56 cm) Dia.
Disc Size
3/32" x 14" (2.4 mm x 35.56 cm) Dia.
Disc Bearings
Heavy Duty - Sealed 3/4 in. (1.9 cm)
Double Row Ball Bearings
PRESS WHEELS
Types
2" x 15 ½" (50.8 mm x 39.37 cm) Steel
REQUIREMENT FOR OPERATION
Drill Hitch
 
Horsepower requirements
70 HP Minimum - Dependent upon terrain and soil conditions
Tractor Weight – Must be of equal or greater weight than that of the drill filled with seed